Great British Sewing Bee Christmas Special
It was lovely to see the familiar faces of Ann, Stuart, Lauren and Sandra with May Martin and Patrick Grant. The idea of a Sewing Bee is a wonderful way to get together and sew so we hope that many of you were inspired by the concept and the ideas that the sewers had.
Wasn't it great to see some patchwork!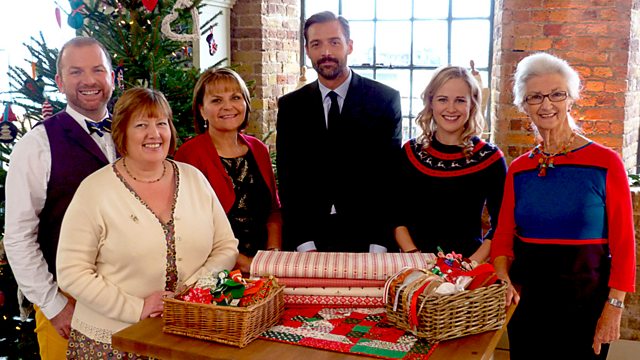 It also demonstrated that you can use patterns and ideas that are all around us - Ann using the top of her pin box for a Christmas Tree decoration for example.
Stuart's idea for using Clamshell Cases as Christmas Tree Decorations was inspired - who knows what treats you might find on the Christmas tree! You could use acetate as Stuart did which would be fine if you're doing it for next year (!) but if you want to make it really quickly Clover do pre-cut acetate pieces all ready for you to cut out fabric and sew. They come in three sizes. Brilliant!
We've given you some more details on our previous Blog Post
If you would like to make these Clover make it really easy - Clover Clam Shell Cases otherwise known as Kai No Kuchi. Click this link to find them on our website - Clover Clam Shell Templates. They come in three sizes so you could put lots of sweets in it or just a few!
We'll be seeing a lot more of Stuart in the future - he's going to be a Handi Quilter Ambassador. His Handi Quilter HQ18 Avante with Pro Stitcher is being installed in January 2014 and we can't wait to see what he quilts on it.
Stuart helping out at our Project Linus Day
Ann lives locally to the Cotton Patch and it has been wonderful to see her on a regular basis at classes and also helping out with the Project Linus Day and our Open Day.
Ann helping Lynda Jackson quilt some of the Project Linus Quilts using the HQ18 Avante